24 Exciting Fall Activities For Preschoolers That Prove Autumn Is The Best
'Tis the best time of year for a little DIY fun!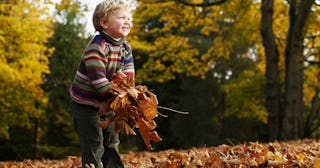 Thomas Barwick/Getty
How excited for fall are you? While we may not particularly love the weather it ushers in later in the year, we love the beginning of fall. The clothes are cuter. The colors are warmer. And, finally, you can be outside for more than 20 minutes without sweating through your clothes. Not to mention that first sip of warm pumpkin spice latte that officially rings in the best season of the year. Bring on Halloween, pumpkins, ghost decorations, and Thanksgiving fun! And, if you have a preschooler at home, bring on the fall activities for preschoolers.
The truth is, keeping a toddler entertained during autumn can feel like a never-ending battle. How do you find time to deadhead your mums, rake the leaves, or winterize the outside of your home with a little one in tow? It helps if you give them something they can do close by. And on those cold, rainy autumn days when you're stuck inside? You can still print a little bit of fall fun and color into your home.
So, these fall activities and printables are all perfect for preschoolers. There are even some that your older kids will enjoy taking part in on days off. Very few require any extra supplies, so cost is at a minimum and, we don't know about you, but we find that extra refreshing. The only question: Which fall activities will you do with your preschooler first?
1. Leaf Collecting and Counting
Literally just send your kids into the yard to pick up leaves and count them as they go. Who can pick up the most leaves?
2. Paper Bag Tree With Fall-Colored Leaves
Use a brown paper lunch bag and twist and scrunch until you form a tree. Next, cut out some fall-colored leaves from construction paper and let them glue them on. Once your child gets the hang of the project, read a book that fits the theme.
3. Clay Pumpkin Decorating
Use some Play-Doh or modeling clay to create the basic shape of a pumpkin. Then, give your kiddo things they can push into the clay to decorate or make a face. Think: dyed corn, dried beans, uncooked pasta, googly eyes, pipe cleaners, etc.
4. Real Pumpkin Fingerpainting
While you probably don't want to do this with your overpriced pumpkin patch pumpkin, "store-bought will do." Set the pumpkin and pots of finger paint on the driveway or your (easily hosed off) patio table and let your kiddo go wild.
5. Make Leaf People
Once your child has collected an odd assortment of leaves in various shapes and sizes, show them how to arrange them into people. Glue them down and let them draw a face.
6. Pinecone Pumpkins
Pinecone. Orange paint. Green pipe-cleaner stem. Seems easy enough. Your kid will definitely take five times longer to do this than you initially expected. Don't let them talk you into glitter.
7. Leaf Pile Jumping
You know how to do this one. It's even more fun than you remember, so consider joining in. Helpful tip: That leaf blower works wonders for removing leaf particles from clothes after a good romp, and your kiddo will love having the blower turned on them.
8. Wax Paper Leaf Pressings
Remember making leave pressings in your school days? Us, too. Remember why? Us, neither. But, honestly, it's still a fun, cheap project.
9. Dye Corn
Follow these super-simple directions for dying dried corn kernels. Next, practice sorting and counting your corn based on color.
10. Coffee Filter Leaves
Trace some leaves onto coffee filters and trim them out. Next, use food dye to color some water. Dip the edges of your leaves into the water and watch as they absorb the color.
11. Leaf Scavenger Hunt
Look up how different shaped leaves come from different trees. Head to a park to find and identify multiple trees/leaves.
12. Playdough Fall Imprints
Roll out some fall-colored playdough. (Think: orange, yellow, red, or brown.) Next, press leaves into it or roll pine cones and acorns over the dough. Check out the cool shapes and patterns you leave behind.
13. Leaf Garland or Wreath
If you plan on decorating and hanging this garland up around your home for that autumnal feel, we recommend buying a bag of fake gold, brown, or red leaves. Any Michael's or similar arts and craft supply stores will have plenty around the fall. Create a garland with the kiddos by punching small holes and threading the leaves on some yarn. Or, you could create a wreathe by gluing the leaves on a plain circular foam or wood circle.
14. Pumpkin Seed Art
Don't toss those pumpkin seeds when you carve your jack-o-lantern! Gather them up, dry them out, and then dye them in a variety of colors. Once that's finished, you can use them to make pumpkin seed art. You'll need white construction paper (for the background), glue, and your groups of dyed pumpkin seeds. Have your preschooler draw a fall-themed photo using markers, colored pencils, or crayons. Then, with the help of glue, they can adorn their fall drawing with the seeds. For example, the seeds would make beautiful fall-hued leaves for a tree or perfect for a turkey's plumage.
15. Corn Painting
Do you have a budding Jackson Pollock or Helen Frankenthaler in your midst? Let them express their artistic side with corn painting — which, for the record, is exactly what it sounds like. You just need a few ears of corn (preferably with corn cob holders for ease of use). You'll also need tempera paint in red, yellow, and orange, along with white construction paper, paper plates, and some sort of canvas. Pour the paint onto individual plates. Then have your preschooler roll the ears of corn in the paint to create a masterpiece on their canvas.
16. Leaf Ghosts
Halloween is in the thick of fall and what better way to celebrate than with some ghosts? Have your kids collect a bunch of leaves from outside. Help them paint them white and draw black eyes on them so they resemble Casper the Leafy Ghost. You can use them as place cards or string them together to hang up around the house.
17. Pumpkin Stamps
'Tis the season for pumpkin-themed everything, including your kid's crafts. In addition to being a healthy snack, your kids can also use apples to create the perfect pumpkin print. Slice an apple down the middle and give half to your little one to dip in orange paint. Then help them press it onto a piece of paper. Complete the pumpkin look by gluing pieces of green and brown pipe cleaner for the stem and leaf. Then top it off with some googly eyes.
18. Build a Scarecrow
Make it a teachable moment by showing them how to upcycle items from around the house (and therefore reduce waste): old sackcloth for the scarecrow's head, old clothes for its ensemble, newspaper to stuff it with, etc.
19. Get Lost in a Corn Maze
One of the best parts of fall has to be corn mazes, don't you think? And little ones love corn mazes! It's a great way to burn off some of their excess energy, while simultaneously working on their problem-solving skills. If the corn mazes around you aren't currently open, create your own DIY version by pinning sheets between trees or other items in your yard.
20. Create a Gourd Centerpiece
Your holiday tablescape can't get much more special than having a centerpiece created by your little Picasso. Hit the local farmers market for a bunch of gourds in various shapes and sizes. Then let your kiddo loose on them with paint. Talk about a conversation starter when you have friends and family over for a holiday meal!
21. Watch It's the Great Pumpkin, Charlie Brown!
It's the Great Pumpkin, Charlie Brown! is a fan-favorite fall movie that is easy for preschoolers to follow. It's not super long, with a running time of only 25 minutes. While it won't be airing on live television this year, the movie is available on Apple TV+ or you could order the DVD on Amazon.
22. Leaf Rubbing
The easiest craft ever. All you need is leaves (perhaps the ones you picked up when you did activity number one on this list?), crayons, and a thin piece of paper. Put the leaf of your child's choice under the paper and show them how to rub their crayon on top of the leaf. They'll think it's literally magic!
23. Fall Scavenger Hunt
With all of the leaves, acorns, and sticks falling from the trees, there are so many things right in your backyard that you can make a scavenger hunt out of for your preschooler. You don't even need to hide them yourself, it will already be there! Other things your child can find may be an item of a certain color — red, orange, and green might be good options at this time of year.
24. Autumn Sensory Bin
Sensory bins are a great way to keep the fun contained. You just need some fall-themed items with different textures. Popcorn kernels, leaves, dry pasta, uncooked rice, small toys, and other things you think your child would like could do the trick.
This article was originally published on