The Best Kids Jewelry Boxes For Housing Their Baubles And Your Lost Treasures
We only recommend products we love and that we think you will, too. We may receive a portion of sales from products purchased from this article, which was written by our Commerce team.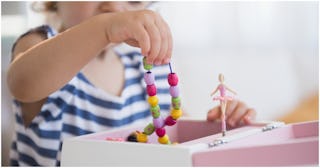 Getty Images / JGI/Jamie Grill
If you're looking for a kids jewelry box for your little girl (or boy), it's probably because you're tired of finding plastic necklaces and bracelets scattered all over the floor. Even though it may be kid jewelry, that sh*t is expensive, too! Diamonds (even faux ones) are a girl's best friend. But they aren't a mom's best friend when they're scattered all over with clutter on the living room floor—or worse, when they're stepped on with bare feet.
There are only two solutions to your messy—and potentially painful—problem: Stop buying your child necklaces and earrings (and earn yourself the title of worst mom in the world) or give them somewhere to store all their baubles. And by "somewhere," we mean a little girls/boy's jewelry box. In other words, specifically one for kids. There are boxes with unicorns, boxes with Disney characters, boxes with princesses, musical jewelry boxes, boxes that lock with a key… and that's only the beginning. There are also tons of choices when it comes to the inside of your kids jewelry box, like ring rolls, earring holders, and necklace organizers. Basically, a quick search on Amazon shows that the options are seemingly endless (and let's not forget the gorgeous Pottery Barn kids jewelry boxes that make a sentimental keepsake).
So what are the best jewelry boxes kids will actually love—and more importantly, actually take the time to use? We've rounded up some of our favorite picks, from a beautiful ballerina jewelry box to a personalized jewelry box to one they can build themselves.
Did we mention you have to also fill the box? Sorry, Mamas.
Best Little Girls Jewelry Boxes
For kids who believe there's no such thing as too much jewelry (and let's be honest, they're right), this is the ultimate box. It has three large compartments with divided slots galore, a ring roll, a watch holder, and removable pillows. And since it comes in chic solid colors (with no childish princesses or unicorns), it's a great jewelry box for teenage family members or friends who are looking for something a little more grown-up. Warning: Your kid will love that this jewelry box has a lock and key (very middle school diary vibes) but be prepared to spend hours searching for said key when they inevitably lose it. Le sigh.
So your kid wants a purse and a jewelry box? Kill two birds with one stone (or rather two gifts with one click) with this uniquely-shaped box, which looks like a tiny purse when it's all closed up. But don't be fooled by its miniature size—after all, good things come in small packages, right? It has tons of tiny compartments for organizing jewelry along with ring holders, two pull-out drawers, a mirror, and a latching clasp to keep it all together. Plus, reviewers rave that the jewelry box is compact and lightweight, making it ideal for young kids who love toting all of their trinkets and baubles around with them.
Just looking at this jewelry box is exciting, since there are so many places to store things. (And when you're a kid, that's pretty important.) For younger kids, this one may also double as a play item on its own, as one Amazon customer found out. "I bought this mostly to keep necklaces from tangling in my daughter's jewelry box," they wrote. "She had different plans for it though. She has made it her Barbie closet and dresser." Barbie is one lucky gal.
This two-layer jewelry box is for the serious jewelry collector. Maybe your kid has a LOT of necklaces and bracelets they need to organize and keep safe. This 12 x 4 x 12-inch box is made from soft lint, and comes in six bold colors your child will love.
Are you looking for a jewelry box that has a bit more heft to it? This metal jewelry box that's covered in cute alpacas may be a good choice for older kids. With rounded corners, it's still a safe choice. Equipped with earring cards, ring rolls, and necklace hooks, there's room for all kinds of jewelry in this box. It'd also make a great makeup case.
Best Kids Jewelry Boxes For DIY-ers
Crafty gem collectors will love blingin' out their very own jewelry box! Leave it to Melissa & Doug to design a gift that's part jewelry box, part art project, making it a unique place for kids to store their sparkly treasures. This set comes with a wooden box, gem stickers, foil stickers, and glitter glue so they can deck it out 'til their heart's content then keep their stash safely inside. Oh, and it's super affordable, too.
Kids can build, then design — and re-design — their own jewelry box creation with this LEGO DOTS set. DOTS are flat click-on tiles that can be assembled into different shapes and patterns, and if your child is already a fan, they can add tiles from their other DOTS collections. You'll both love that the tiny pieces can be stored in a compartmentalized carrying case to keep everything organized and ready for when inspiration strikes. With a near-perfect star rating, over 300 parents are thrilled with this set, and after all, you can't go wrong with LEGO.
Best Musical Jewelry Boxes
The only thing better than a unicorn jewelry box is a unicorn jewelry box that plays music—which is exactly what this is. The box, which is covered in magical designs and doodles, opens to a small unicorn figurine that twirls to the tune of, well, "The Unicorn." And it's as functional as it is fun, too, with a large fabric-lined compartment and two pull-out drawers for bracelets and necklaces plus a ring roll. There's even a star-shaped mirror for your own little star to admire themselves.
A must-have for mini jewelry fanatics, this sturdy jewelry/music box comes with a twirling ballerina inside — a classic. But the best part? She has a rich brown skin tone, showing there are dancers of all colors. Also included are a rose gold necklace and bracelet set to start (or add) to your little's bauble collection.
If you're looking for a classic jewelry box, look no further than this incredibly popular gem. This box features a beautifully sculpted heart pattern. And as pretty as it is on the outside, it's even prettier on the inside: The jewelry box opens up to the tune of "Fur Elise" as a graceful ballerina twirls around atop the baby pink velvet interior. It's a little pricey, but undeniably heirloom-worthy.
Best Disney Jewelry Boxes For Kids
If your kids are nuts about LEGO and equally nuts about Disney, this jewelry box is a great option. But, it's definitely for a child who loves a challenge, as it contains 558 pieces. That said, it'll be hard to find a jewelry box that's half as interactive as this one. Aurora, Tiana, and Merida are the perfect trio to help your child play while storing their prized possessions.
Fans of The Little Mermaid will love this 30th Anniversary jewelry box. It plays the song "Part of Your World" and even comes with a pearl ring for your little one to wear. "My child can't get enough!" said one reviewer. "The super fun jewelry box is filled with excitement! Ariel and friends move, they sing with her real voice and you can turn the sound off if you want to keep the light changing going as well! A beautiful fabulous present for a mermaid fan."
Pay homage to one of the Disney classics with this rose jewelry box. With hiding spots around the base of the rose, your kids will feel just like Belle (or, the Beast) while interacting with this light-up musical box that also plays the Beauty and the Beast theme. If you're looking for a jewelry box that can double as their new favorite toy, this one is perfect. It also includes a feather ring to help your child start their collection.
This article was originally published on