10 Sun Hats & Visors To Keep That Precious Face Sun Safe
We only recommend products we love and that we think you will, too. We may receive a portion of sales from products purchased from this article, which was written by our Commerce team.
by Anjerika Wilmer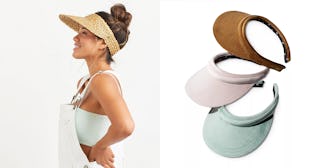 Hemlock Hat Co. / Lele Sadoughi
To survive summer in style (frozen margarita in hand, of course), a stylish womens visor hat is a wardrobe must-haves that every mom needs. Now that you've scouted out a bangin' one-piece swimsuit, a cute t-shirt dress to throw on top, some sleek shades, and comfortable sandals that won't give you blisters, a chic visor hat to match your cutie patootie is in order. When shopping for that perfect headpiece, you'll want something that you can rock 24/7. If not to block out the sun (especially from 10 a.m. to 2 p.m. when the sun's rays are the strongest), then to keep you cool when there's not a beach umbrella in sight. Some questions to ask yourself: Can it easily be folded up/packed in a bag or suitcase for a spontaneous excursion to the beach someday? Does it provide UV protection? It is functional and statement-making? This summer, I think you deserve to lounge in the sun and read a good Literotica book. How's that for relaxing?
From wallet-friendly sport visors that you can snag on Amazon to trendy straw visors (who knew?!?), we're bringing you all the latest mom-friendly fashion finds. Get ready for summer at the kiddie pool looking like your favorite celebrity mamas and style influencers. Try a summer camp-worthy lewk with your favorite visor hat (outfit inspo courtesy of the lovely Reese Witherspoon) or take advantage of a matching mother-and-daughter moment (we're looking at you, Jessica Alba!).
Here are the best sun visors for women!
Best Visors for Women
Hold your horses, ladies! Before summer is over, trust us, you have plenty of excuses to reach for this chic straw hat from Simplicity. If you live in the south, then the dog days of summer will likely continue through mid-October. You know the drill: Chilly mornings and balmy afternoons. Whether you opt for jeans and an oversized cardigan or a fall-ready prairie dress (hellooo, trips to the apple orchard), this accessory du jour will pay for itself. At just under $20, it's a steal. One Amazon customer shares, "I love floppy hats at the beach but can't wear them if I have my hair up in a bun, so this is a perfect alternative. It rolls up easily, so it takes up virtually no space in a beach bag or suitcase. Highly recommend."
Looking to keep the sun out of your eyes while also looking fashionable AF? This Furtalk sun visor may be a great match. Available in 12 different colors, this visor is ideal for people who often wear their hair up in a messy bun or ponytail (which, plenty of moms do.) But most importantly is the fact that this visor offers high UV UPF protection. Sunburns are never fun.
Looking for a cute visor that makes a statement? EW has you covered — literally. This visor does a great job with not blocking your line of sight, making it great to wear all day long. It's also special for another reason — each visor sold has been woven by hand, adding a special touch to every one.
Give your summer wardrobe the trendy makeover it deserves, mama. Hemlock visors aren't just restricted to cool adolescents who shop at UO, this visor would look adorable with a cropped t-shirt, bike shorts, and your favorite summer slides. Wear it around town, while floating down the river on a pool float, or just because you can. What can we say, this visor ~issa vibe~ on its own. The elastic closure makes sure it stays snug no matter what summer activity you're doing with the kids.
This wide-brimmed hat is begging to be taken to the beach. Lightweight and breathable, this will protect you from harmful UV rays in style. It's even got an adjustable cord to help with fit, and ensure it doesn't get taken by the wind. It's also available in eight colors, all of which you're bound to get compliments on. "The brim isn't goofy or over the top, and it covers your ears," said one Amazon reviewer. "The fabric is quick to dry and the hat packs easily and keeps its shape. I have scars on the top of my head from a car accident, my hair doesn't protect them and they can get sunburned, so normally I have to braid my hair or leave it down to wear a hat, but this one covers the top of my head, protecting my scars, but still allowing me to wear my hair in a messy bun or ponytail."
Did you know that sun visors could make your entire outfit? At least, this sun hat from Naivlizer can. Made with natural paper straw and stretch polyester, this hat has a gorgeous bow on the back that add class and sophistication to any beach or golf course look. It also has an adjustable loop and hook closure, helping to form a better fit on your head. Weighing in at 4 ounces, it's easy to travel with and won't weigh you down.
RELATED: The Best Kids' Face Shields They Can Pair With Their Trusty Mask
Sun Visors for Women
Go big or go home with the sportiest hat of the season (available in an uber-trendy pastel color block design or black and white). If you're the type of mom who lathers on SPF 100+ and wears a rashguard to the beach to keep covered, then this visor was made for you. The brim on this guy is twice the size of your normal visor or baseball cap, offering more shade for your forehead, neck, and chin. You can wear it while jogging or when playing lifeguard at the pool. With over 1K ratings on Amazon, customers love it too. "I love this visor hat! The extra-wide brim is perfect for sun protection on my morning walks. It's protective from the sunshine and I can still keep my head up to see where I'm going without the sunshine getting in the way. There is a neck strap that you can add, for windy days. The back is secured with a stretchy band that has a clasp and can be adjusted. I can put my hair up and still have sun protection. Just what I wanted!"
Say "aloha" to the cutest hat in town. Part visor, part straw hat, this summer-friendly topper is ready for a hammock break or camping trip with the fam. Toss it in your beach bag alongside flip flops and a bikini coverup for an off-duty look that won't cramp your style. Thanks to the funnel shape, you can even pull a ponytail through the opening. AKA, no dreaded hat hair to speak of! Take it from this mama, "I love this visor hat thing! I bought this on impulse this summer after realizing that I needed some face protection from the sun while at the pool with my toddler… My favorite part about it is that it protects my hair from the water a little bit. My hair is long and curly and somewhat high-maintenance. I have been trying to find a way to keep it dry so that I don't have to do a full wash routine after every trip to the pool, while I still want to get in the water and play with my kid. I've given up on swim caps. But I was pleasantly surprised by this! I put my hair into a topknot and this hat over the top, and the brim provides some splash protection! As long as I don't go under or really jump around, my hair can still be mostly dry afterward. I like having that flexibility."
We don't know who needs to hear this but you don't need to spend $300+ on a fancy sun visor from Eugenia Kim. Amazon has you covered with a strikingly similar floppy straw beach visor for a fraction of the price. Choose from over 15 colors and varieties for a panache-packed look that you can pull off anywhere. Perhaps, the best part is that you can also score one for your mini for a matching mommy and me moment. If anything, buy it for the 'gram! Says one Amazon customer, "I love this sun hat it's very comfortable [and] covers all my face from the sun. You can adjust it to the size of your head and come with [optional] straps to hold the hat to your chin and also you can fold the hat for travel. Doesn't look cheap for the price!"
Best No Headache Visors
The original No Headache Visor is your go-to if you suffer from migraines or headaches when wearing hats. "Most visors put pressure near your ears and when there are sunglasses involved too, this can get painful," said one customer. "This visor has longer prongs and I wear it all day with no discomfort. It also has a cloth cover over the plastic bill which helps with inevitable perspiration." You can grab one in over 20 colors and patterns.
If you're going on a vacation and plan on being in the water most of the time, this visor from Wallaroo is for you. It's lightweight, quick-drying, and has a wide enough brim to protect your face from the sun. One reviewer said, "This visor is fantastic! It's lightweight but with a very stiff brim; wide coverage means my entire face is shielded from the sun. I love that this can be worn in or near water, yet also looks nice enough to wear in less casual situations. The adjustable drawstrings are a fantastic addition that makes the visor so comfortable and secure. I plan to buy more of these in other colors!"
For some people, visors aren't necessarily comfortable. Luckily, someone's thought of a solution — and that solution is this coil visor. This design will free you from headaches, and it's cute to boot. "I was pleasantly surprised by the comfort of this visor," one Amazon customer admitted. "I have a relatively small head and was worried that I would have to cinch the coil tight in order for it to stay put. I am able to keep it fairly loose and it still does not move... This visor has a 'sheen' to it. Not flashy, but makes it look very nice. Happy with this purchase."
Looking to update your summer wardrobe? Gear up for the rest of the season with these mom-approved summer fashion essentials!
This article was originally published on