10+ Easter Games To Give Your Little Bunnies The Hoppiest Easter Ever
All that sugar leads to all that energy! Here are a few fun ways to get it out.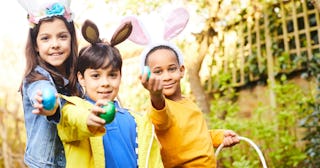 Looks Like Me/Getty
Oh, Easter... the time of cute bunny ears, pretty wicker baskets, and trying to stop chocolatey fingers from being smeared all over the furniture. If you're looking for some fun Easter games to keep those sugar-wired kids entertained this year, look no further! This list not only provides typical Easter party ideas — you just bring the hard-boiled eggs — but also shows you how to put an Easter spin on traditional party games. Whether you want a quick fix or some creative DIY, we've got you covered. Here's everything you need to keep the party hoppin'.
Trying to wind things down instead of crank things up? Try our Easter egg coloring pages or share some Easter jokes and puns. Hand over the letterboard and let them fill in your spring letterboard message. And, whatever you do, make sure you snap plenty of pics and use spring captions appropriately.
1. Egg Hunt
The most obvious Easter game of all, there's a reason why families, schools, and even communities host an egg hunt every year. Hours of fun can result from hiding little or large chocolate eggs around the house, yard, or park. If the kids you're entertaining are a little bit older, why not make it a little more like a scavenger hunt and attach your own clues to each egg to help them find the next?
2. Easter Tic-Tac-Toe
This game is played exactly the same as regular Tic-Tac-Toe, but you can Easter it up by playing on Easter-themed paper or by getting an Easter-themed board. These boards usually have either carrot/egg and bunny counters in place of Xs and Os. Either way, whoever is the first to get three of their counters in a row is the winner.
3. Bunny Ring Toss
For this game, you'll need either a plastic or inflatable bunny with pointy ears and some hoops. Players toss the hoops in the hope that they'll loop around the bunny's ears. Whoever gets the most hoops on the bunny's ears wins.
4. Bunny Bowling
The level of creativity this game requires depends on how elaborate you want it to be. The above picture shows a DIY bowling alley, which in itself would be a fun thing to create with the kids. But if you're pressed for time, all you really need are pins and some giant plastic eggs to knock 'em down with! Decorate some regular bowling pins or make your own. The plastic eggs can be picked up at Target, Walmart, or Party City.
5. Pin The Tail On The Bunny
Donkeys? Who needs 'em? Buy or make your own poster that shows an adorable but tailless bunny or two. Get a fluffy pom-pom to act as the tail and give blindfolded players a chance to stick it on the bunny's butt. Whoever gets it closest to where a tail should go wins.
6. Easter Hide-and-Seek
Easter hide-and-seek is just like regular hide-and-seek, only the person chosen as the "seeker" has to act as the Easter Bunny and wear cute little ears. The "hiders" are therefore the Easter eggs and have until the Easter Bunny counts to 20 to get hidden. The last egg to be found is the winner, and the first egg to be found is the next Easter Bunny.
7. Easter Piñata
Everybody loves a good piñata. Smashing something to pieces without getting in trouble and being rewarded with candy when it finally breaks? Yes, please! Getting an egg, bunny, or carrot-themed piñata is sure to liven up any Easter party. Blindfold your players, give them a bat and a nudge in the right direction, and tell them to get swinging.
8. Bunny Hop Race
This race requires everyone to act like Easter Bunnies who got stuck in their own sack. Each racer will step into a large sack that comes up to their waste. They then have to hop their way in the sack to the finish line. Whoever reaches the finish line first wins.
9. Egg Toss
Egg tossing has been played as an Easter game since medieval Britain, where hard-boiled eggs were used. You can do it the traditional way or modernize it with chocolate eggs. Either way, break everyone into two-person teams. One member tosses the egg to the other. If the egg doesn't break, they each take one step back and toss it again. This is repeated until all the eggs are broken. The last team to break their egg wins.
10. Hungry Bunny Toss
This Easter game is played the same way as cornhole. But instead of tossing beanbags into a cornhole board, players will toss them into a bunny's mouth. Make it yourself with the kiddos using cardboard and paint. Whoever gets the most bags in the mouth wins.
11. Easter Scavenger Hunt
Make a list of all the Easter-y stuff you see in and around your home — it can be as vague or pointed as you think your kiddos will need. From "Something shaped like an oval" (an egg) to simply "a pink egg," there are really no wrong hints. Then, give them the list and let them look for those things. If you have a lot of kids, consider splitting them into teams and partnering littles with older kids that have phones, so they can get photographic evidence.
12. Hopscotch
What? Bunnies hop, don't they?! Use all that pastel sidewalk chalk left over from last summer and send the kiddos outside to draw a Hopscotch course and bounce off some energy.
This article was originally published on