Toddler Has Too Much Energy? Help 'Em Burn It Off With These Fun Home Jungle Gyms
We only recommend products we love and that we think you will, too. We may receive a portion of sales from products purchased from this article, which was written by our Commerce team.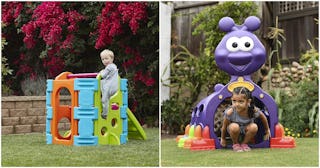 Amazon
A toddler play gym or jungle gym — whether for indoors or outdoors (or, maybe you want both) — is a wise investment if you have an energetic tot. (And for the record, we're using the terms "play gym" and "jungle gym" interchangeably, because they basically serve the same purpose … right?) Since toddlers love to climb all over everything in sight, you might as well get them a cool indoor and/or outdoor activity set to explore instead of every drawer and cabinet in your carefully-organized home office.
As the parent of kiddos learning to walk, you'll quickly discover that toddlers will make every effort to injure themselves while fumbling around your home —especially if they're bored indoors due to inclement weather. When they aren't in the baby bouncer, your job turns into serving as a 24/7 bodyguard, helping them avoid stairs, sharp coffee table corners, and every other hazard as they drunkenly stumble around the house. Eventually, toddlers start to gain mastery of walking and even climbing. Your next job is to help them hone their skills on safe kids play gyms and play sets, rather than on bookshelves and other death traps.
Your kids may still find a way to hurt themselves, but at least with kids play gyms, there is a contained danger zone. It's up to you if you can handle seeing a play yard or an in-home gym in your yard or living room every day. A slide may be a necessity, but are swings and a ball pit considered essential kid gear? Your call.
And sure as hell, your kids will find a way to do something adorable while playing on their fancy-schmancy new gym, reminding you why you even decided to have kids in the first place. (Within a few minutes, the toddler will be back to normal, screaming "NO" 45 times in a row, but at least you'll have that adorable moment to remember.)
Best Outdoor Toddler Play Gyms
Best Indoor Jungle Gyms For Toddlers
Best Outdoor Play Sets For Toddlers
This article was originally published on