10 Royally Cute Princess Coloring Pages To Help Mama Get Some Peace & Quiet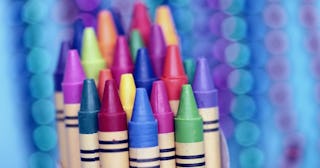 Sharon McCutcheon/Unsplash
Here for princess coloring pages, huh? We know what that might mean: Quarantine is getting the best of you. Did you run out of fun things to do to entertain your little ones about a week after lockdown started? If you're doing less than the bare minimum, it's totally okay. If your kids are driving you bonkers, that's also okay. Your sweet little princess has turned into a bored villain and you're just looking for something to keep her quiet for five. dang. minutes. You're in the right place.
Each of these sites offers up a unique mix of printable princess coloring pages, as well as ones they can do from any computer or tablet. For real, Mama. These are trying times for everyone. Don't feel too bad about handing over the tablet or walking away while they break all the crayons. You put in the effort it takes to find these coloring pages. So, you've done enough for now. Have you eaten today? What about showered? Now's your chance to escape the suck. Let the princesses babysit.
"This is great. But, my other daughter isn't into princesses." Girl, we gotchu. Not all kids function on the same wave-length or like the same thing. Since the printer is already warmed up and you've dug out the crayons, it's still coloring time. Luckily, they make coloring sheets for a wide range of interests. If your kiddo is obsessed with unicorns, we have coloring pages (and jokes) for them. There are also coloring page collections for puppy-lovers and Pokemon fans. And your older kids? These more intricate adult coloring pages may interest them. Or you. It's okay for you to sit down and color, too. (Showering is overrated!)
Princess Coloring Pages — Printables
Reminder: Print multiples of each to avoid meltdowns over mess-ups.
1. Flower Princess
From the blossom tucked behind her ear to the waist of her skirt, this princess epitomizes flower power. You can even turn this page into a fun learning opportunity by printing multiples and picking a different real-life flower theme for each. As your child colors, teach them facts about the flower that they can incorporate into their work of art.
2. Princess Kiss
We love the whimsical styling of this stick-figure princess and her frog suitor! Bonus activity: Watch Disney's Princess and the Frog once your little one finishes filling in this cute pair.
3. Magic Princess
If your child is a die-hard fan of princess fairytales, they're going to love this coloring page. This beauty bears a striking resemblance to Rapunzel, don't you think?
4. Bows Princess
How many bows does this frou-frou princess have on her royally stunning dress? Have your little one count it out! And remind them that they don't have to color every bow the same color — princesses are nothing if not creative.
5. Mirror Princess
Mirror, mirror, on the wall, this coloring page might be the fairest of them all. Plus, it's a great excuse to break out the dress-up trunk and let your little artist get into character while they color.
6. Rose Princess
There's just something about princesses and flowers that go together, right? This lovely royal lady holds a rose. But is it red? Pink? Yellow, even? Let your kiddo decide, then ask them to share why they chose to color their pretty petals that way.
7. Mandala Princesses
The tiniest of princesses might find all of the fine lines in these mandala princesses tedious, but they'll be perfect for your tween or teen. They'll want to color these in even if they think they're too old for fairytale fun.
8. Fancy Princess
Calling all dress-up divas! This one's for the kiddos who can't get enough of accessories and embellishments. Heck, they can even add bracelets to her wrists and rings on her fingers if they want more glitz and glam.
9. Frilly Princess
If the fancy princess had a cousin, it would be this frilly princess. So, bring on the bits, baubles, jewels, ruffles, and bows — the frillier the better when it comes to filling in this coloring page.
10. Princess of the North
Is your kid still obsessed with Frozen? Do they imagine a world in which they are Queen Elsa or Princess Anna? If so, you might as well go ahead and print out several copies of this super-cool (do you see what we did there?) page.
This article was originally published on