A (Non-Exhaustive) List Of The People Who Made Our 2020 Brighter
by Rachel Garlinghouse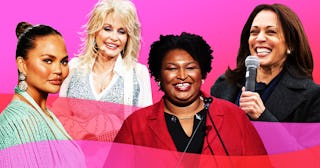 Julia Meslener for Scary Mommy and Valerie Macon/Frazer Harrison/Alberto E. Rodriguez/Nic Antaya/Getty
When you think back over 2020, I'm certain there's a lot of epic memories. And when I say epic, I mean awful. Most of us can agree that 2020 should be forever remembered as the year of the never-ending dumpster fire. However, there have been a few lights in the darkness, some incredible people who made this year just a little bit better.
Here at Scary Mommy, we have no problem telling you what's up with individuals who are awful humans—those we have no time, patience, or energy for. We also have the incredible honor of sharing stories of hope, healing, hilariousness, and badassery. There are also some high-profile folks who have done some magical things for the world, during a time when their voice truly matters. Whether they've offered to be our pandemic superhero, changed the political direction, given us a good laugh (or cry), these individuals are putting some major positive vibes into the universe for the betterment of us all.
Dolly Parton
If I could choose my own 2020 magical human, it would be Dolly. Not only did she release a Christmas movie and a Christmas album, because we all need a more merry Christmas this year, but she donated $1,000,000 of her own cold, hard cash to COVID-vaccine research. Oh, and did you hear she pulled a little girl out of peril—an oncoming car? Dolly has always been one of my favorite people. She continues to give away gobs of books through her Imagination Library, and if you missed it, she hosted bedtime storytime for kids during the pandemic. My favorite Dolly moment of 2020 is when she clearly stated that she supports Black Lives Matter, sharing, "Do we think our little white asses are the only ones that matter?"
Kamala Harris
History-maker Kamala Harris is going to be our country's first woman and woman of color vice president. Whew! This reason alone makes her one of our top people of the year. Another reason why I adore Harris so much is that I've found some commonalities with her. She's a wife and mom in a multiracial, blended family. She had no issue telling Mike Hater-ation Pence what was up during the VP debate when he tried to disregard systemic racism (among many other things). She's also gracious, strong, and warm, reminding me of the qualities we adored in Michelle Obama.
Taylor Swift
Scary Mommy writer Sa'iyda Shabazz shared that T-Swift is her pick, stating, "She dropped TWO albums this year." Additionally, "She's so fiercely aware of her worth and the value of her work." We couldn't agree more! Who can forget her jaw-dropping music video for her song "The Man" earlier this year? She never ceases to amaze us, dropping a surprise album, Evermore, earlier this month. You can learn more about Swift and her struggle with an eating disorder (and all the fame) in her Netflix documentary Miss Americana, and catch her intimate special Folklore: the Long Pond Studio Sessions on Disney Plus.
Dr. Jill Biden
Dr. Biden is incredible for many reasons, some of which you may not be aware of. She's not only an educator, which is basically the equivalent of sainthood, but she's highly educated. Despite a pathetic mansplaining attempt to bring her down, explored in a recent WSJ article, Dr. Biden continues to rise above. She's friends with Michelle Obama (swoon), she's authored several books, and she doesn't play when it comes to her husband, president-elect Joe Biden. Remember when she jumped in front of her husband when a protestor came at him?
BTS
Scary Mommy writer Virginia Duan nominates k-pop (that's Korean pop) band BTS. This seven-member band has quickly become a favorite among tweens, teens, and um, adults too. We dare you to listen to their hit "Dynamite" and not dance. They donated $1,000,000 (yes!) to Black Lives Matter earlier this year. They tweeted, "We stand against racial discrimination. We condemn violence. You, I and we all have the right to be respected. We will stand together."
Stacey Abrams
Scary Mommy's Karen Johnson shared that Stacey Abrams is one of our heroes of 2020. Abrams is a former Georgia state representative who created Fair Fight, an organization that combats voter suppression. Scary Mommy reported that "Fair Fight registered approximately 800,000 new voters, 49% of which are people of color." Her latest book Our Time Is Now covers politics, voter suppression and voters' rights, and leadership. We're eager to see what Abrams does next.
Chrissy Teigen
We can't help but love Chrissy, because she's one of the few celebrities who genuinely keeps it real (not fake-for-show real) and has no issue clapping back at haters who comment on her body, her parenting choices, and her marriage. (Speaking of, she and John are marriage goals.) Earlier this year, Chrissy opened up about experiencing the heartbreaking loss of her and John Legend's son Jack. Chrissy is the fun-loving, authentic friend we all want more of in our lives, the one who always keeps us the edge of our seats.
Certainly, this isn't the be-all, end-all of fabulous people lists. We didn't have time to cover all of the amazing humans we would love to highlight. Whomever rocked your 2020, making the year just a bit happier, deserves an accolade. After all, 2020, in the words of my fantasy-friend David Rose, can eat glass.
This article was originally published on