36 Camping Gift Ideas That Outdoorsy People Will Actually Find Useful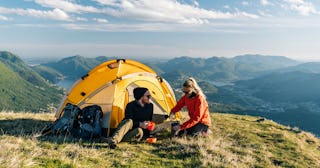 Getty Images/Milo Zanecchia/ Ascent Xmedia
So, you have a camper in your life, and you are looking for some cool camping gifts you can impress them with this year? You may think they have everything they need to enjoy the great outdoors (from tents, to water bottles and canteens), but campers can never have enough gear— especially the hardcore campers who like to camp all year round and don't care about the conditions. They'll need backpacks, cookware for the outdoors, blankets, and more.
RELATED: The Best Family Tents For Camping, Including One That Fits 16 People
If you are looking for gifts for camping lovers that go beyond a tent and a stocking full of freeze-dried foods (although those items are always great gift ideas), then you're in the right place. We've compiled a list f the best, and most unique camping gift ideas you can find for the camper in your life.
RELATED: The Best Baby Camping Chairs To Keep Your Kiddo Contained In The Great Outdoors
Best Camping Gifts
Unique Camping Gifts
If you were inspired by the best camping gear to give the camper in your life, but done shopping for outdoor stuff, we bet you'll love this list of the best yoga gear.