21 Valentine's Day Gifts For A Husband Who — Sigh — Has No F***ing Idea What He Wants
by Kyle Schurman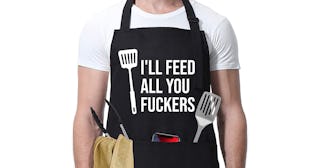 Amazon
Looking for a Valentine's Day gift for your husband? Men are notoriously bad at letting their significant others know what kinds of gifts they would like. As men, we own it. We suck at this. (Maybe you're lucky and your husband tells you exactly what he wants. Of course, when he's constantly begging for a Ferrari, he's not f***ing helping the situation.)
When it comes to Valentine's Day, you could buy some lingerie for yourself and wear it for him while you two try out the latest sex positions (if you feel like it and once the kids are asleep, of course, and we mean really asleep). But that's probably not going to surprise him, considering which holiday we're talking about. (Want to keep him on his toes? Try the lingerie trick on a random day in April. He'll be surprised then.)
RELATED: It's All About The Kids This Valentine's Day — 21 Gifts They'll L-O-V-E
If you need some help finding Valentine's Day gifts for your husband or even a gift for your boyfriend, don't bother asking him. He probably has no clue anyway. (Although if he's reading over your shoulder, he has the lingerie idea stuck in his head now. Our bad.) All Literotica aside (because that's a gift that's really for you, not us), there are plenty of things you can get your husband apart from things that are used to spice up the evening. We love the practical stuff too. He'll always like something beer-related and it's guaranteed that he'll never not need clothes or grooming products — we wear/use what we've got till we can't (and probably a little after that, too).
Keep him on his toes and use our list of creative Valentine's Day gifts for boyfriends and husbands. With these gifts, you can give him what he wants before he even knows what he wants.
1st Valentine's Day Gifts For Husbands
Valentine's Day Gift Ideas For Husbands
Valentine's Day Gifts For Boyfriends
If you like these ideas and need more of them, we've put together a whole bunch of cool gift guides that take all the stress out of various gift giving holidays.
Okay, we exaggerated. Most of the stress. After all, your in-laws still might show up. We can't help you there.