Ho, Ho, Ho! 8 Ways To Call And Text Santa Claus This Holiday Season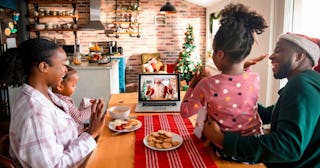 Marko Geber/Getty Images
Since Halloween was basically yesterday and Thanksgiving festivities take place in the blink of an eye, that means Christmas is pretty much tomorrow, right? Now it's time for Santa Claus to buy, wrap and tag those perfect presents. Was it L.O.L. Surprise your little one liked or the Poopsie slime? It's all Barbie pink Greek to you. Luckily, if there's one person who always stays hip to the latest toy trends, it's good old St. Nick. Fortunately, it's even easier than ever for your kids to keep in touch with their holly jolly hero. Thanks to unlimited data plans and a plethora of Santa calling apps and devices, your favorite little elves can call Santa Claus with refreshing ease. All you have to do is practice your eavesdropping and you're on your way to making pretty much any kid believe in the magic of Santa and Christmas.
And when you want more entertaining Christmas content, we have you covered with Christmas jokes (plus dirty Christmas jokes and Christmas pick-up lines for the grown-ups), Christmas riddles, and even funny Christmas quotes.
Talk to Santa for Free
1. The Original Santa Hotline
These fee-free international numbers have been in use for ages and are the perfect way for your kids to reach the big guy. You just need an actual phone. Call: +1-319-527-2680 or +1-712-770-4404
2. Ask Alexa
Is there anything Alexa can't do? If you have an Echo, Echo Dot, etc., all you have to say is "Alexa, call Santa," and your Amazon device will connect the kiddos to Santa Claus or one of his polar friends.
3. Google Knows Santa, Too
Your Google Assistant can also call Claus. He'll be too preoccupied for a live chat, but there's still guaranteed fun to be had by all.
RELATED: "Is Santa Real?" A Psychologist's Case for Telling Kids The Truth – Fatherly
4. Message from Santa App
This app is seriously adorable. Kids can call Santa's voicemail and choose to record a wish list, put someone on the naughty/nice list, find out the weather on the North Pole and so much more. There are also options to schedule a call, send text messages, or create a video.
5. Personalized Call From Santa App
This Santa call app is extra cool because it lets you select message options based on when the call from Santa takes place and can be used all year — including on your child's birthday.
6. The Christmas Dialer
You can visit Christmas Dialer, give them your number and select from several automated messages. Need a warning from Santa? They've got you covered. They also have messages from your Elf on the Shelf.
7. Ask Santa
This A.I. powered site lets your little elf have free, real-time convos with Kris Kringle himself. Bonus? It's Coppa Certified Kid Safe! All you have to do is create an account, which you can then use to either type of record a question for Santa to answer.
RELATED: 17+ Cheeky New Year's Eve Jokes More Bubbly Than Champagne
Get What You Pay For
8. Video Call Santa App
While this video call Santa app is technically free, they have found ways to monetize the experience. One of the most popular (and totally worth it) upgrades is having the call personalized with your kiddo's name.
9. Portable North Pole
The Portable North Pole (PNP) app is another great technically free option that gets better if you don't mind the splurge. Not only can you personalize, but you can send your video to groups of people. Plus, there are more options, including adults-only and birthday options.
10. Talk to Santa
Talk to Santa may be the priciest of the virtual Santa options, but it's arguably the most authentic. Letters from Santa all the way from the North Pole start at $14.95. Personalized prerecorded video calls from Santa or Mrs. Claus start at $39.95. And for $54.95, you can get an actual live video call from Santa or Mrs. Claus. Although let's be clear, the look on your little one's face will be priceless.
11. Package From Santa
Like Talk to Santa, Package From Santa offers several options for holly, jolly messages from the Man in Red. Their promise? "Amazing overstuffed and personalized Christmas packages sent to your child directly from Santa at the North Pole." Examples include a letter from Santa (with a gold seal of authentication, no less!), a nice list certificate, a signed photo of Santa and Mrs. Claus, a personalized video, a phone call, and more.
This article was originally published on