Role Play Ideas To Help Spice Things Up In Your Bedroom And Bring The Heat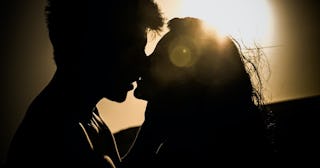 Alejandra Quiroz/Unsplash
There are so many wonderful perks that come with being in a committed relationship with the person you love. They know your preferences and your pet peeves. They probably even know exactly what you need in order to "finish" during sex — hello favorite sex position. Of course, knowing what you need doesn't always work to your advantage, does it? Reaching your tipping point is an amazing feeling. However, if your partner goes straight for the launch button without trying other maneuvers first, your sex life can start to feel boring. Or worse. Rushed.
While you might feel the urge to just be grateful you're even getting laid what with the kids running around, you still want more. That's okay, Mama. Sometimes you need to slow things down and one of the best ways to do that is to add a little bit of fun. That can look like rolling some suggestion dice or adding some other kind of toys to your routine to spice up your sex life. It might mean starting while they're at work with some risky sexts. Or, in this instance, it might mean changing things up significantly with a little bit of role-playing.
Adding role play to your sex life can take many forms. It might be as simple as throwing on that old Halloween costume. It could even start as innocently as grabbing your partner's backend while they're fixing the sink and asking for help with another set of pipes. The hardest part is remembering not to take it (or yourself) too seriously. If you're looking for some ideas on where to start, we've got your back. These ideas run the gamut and ought to offer something your lover will get into.
Want more tips? Check out our package on how to have shower sex, tips on car sex, how to have Skype sex, the best sex positions you should try, and so much more.
Role Play Ideas
Power Plays
A classic kind of bedroom-based role-playing is the power struggle. This typically looks like cliches involving "naughty schoolgirls" or subservient maids. If that works for both of you, then by all means try it. If you're typically the boss of the relationship, though, why not let your more laid back SO take a turn calling the shots? Reminder: Just because many of these pairings are often played out in heterosexual relationships, doesn't mean you can't shake things up. Who says a woman can't be president or a man can't be a sex worker? Changing up the power dynamic will make things all the more interesting.
That First Time Fantasy
Losing your virginity is not always how they show it in the movies. But what if you could recreate it with a partner who could make it as hot and steamy as you wished it could have been way back when. With role play, you could!
Strangers in the Night
Speaking of your first time… What was it like the first time you hooked up with your current partner? Was it amazing? Was it awful? Were you even sober enough to remember? One easy and fun way couples enjoy role-playing is by simply pretending they have never met. Next time you meet your partner at a bar, walk up to him and introduce yourself, again. See if you can keep it going all night until you eventually find yourself in a compromising position. Mumble about how you "don't usually do this" while you two pretend to hook up for the first time. There are two ways to look at this: You're either recreating a magical night or looking for a do-over to an otherwise forgettable night. Either way, it's your chance to make some memories and have a little fun while still basically staying within your comfort zone.
Less Power Struggle, More Mystique
Not all role playing needs to be about dominant or submissive partners. Sometimes it's just as exciting to walk in late to a bar date and hit on your partner as if you've never met. No one lords over the other. You're just pretending to be strangers and forgetting that you have mortgage payments or soccer practices. In these instances, the goal is to have fun and reignite your attraction to each other.
The Best of Business and Pleasure
You might spend your week counting down until the second you can get away from work. But you know what? That's a great reason to make the office part of your role play fantasies. It'll be like having an exciting (dirty) little secret that makes you look forward to clocking in every week.
Fictional Pairings
Who says you have to be a real person at all? Maybe you want your shaggy dude to pretend to be Thor while you channel your inner Black Widow? Or, maybe, you've watched every Star Wars movie and fantasized about a queer couple. Now is your chance to don your Poe Dameron and Finn costumes and finally see the hook-up you've been longing for. Whether the characters would actually ever partner up within their world is irrelevant. This is your world. Do you.
Special Delivery
Ok, so before you roll your eyes— hear us out. Pizza delivery guys are sexy, or at least yours will be. Erase that grainy porno plot from your mind and be willing to create your own sexy saga. Tell your lover to ring the doorbell and then pretend you can't find the money to pay for the pizza but you're willing to compensate him in other ways (*wink*wink*). But if you don't want him to be a pizza guy, make him a super secret agent, which is not only a great way to get your man in a suit but a chance to switch up the delivery storyline. Let's say he has to deliver a top-secret file to you but there's a storm outside, so you insist he waits it out and stays the night. Just don't be afraid to get creative if you think the cheesy porno plot is overdone (pun intended).
If you don't feel like cooking tonight and want to explore a new role play idea, this is your ideal scenario. Let's say you order a meat lover's pizza and you thought you had a $20 bill in your pocket. But when the sexy pizza delivery person arrives, it's nowhere to be found. You ask if you can make it up to them another way, and well… you get the idea.
Importance of Role Play
First things first, no, you do not need to role play in the bedroom to reignite your sex life with your partner. There are many ways to do that. But you can gain a valuable experience through this sexual activity. When you role play, it's an opportunity to dive into each other fantasies which takes vulnerability and strength to show one another. When you become the character you fantasize about, you are giving your partner a glimpse of someone you want to be, which is part of who you are. The experience is incredibly intimate, a great way to connect, and another way to just have fun. You and your partner can also build a better foundation of emotional and sexual trust. There are also health benefits as it can serve as a great stress reliever from work, school, or just the daily stressors of life.
This article was originally published on