15+ Best Gifts For 1-Year Olds, According To Experts (& Moms Who Approve)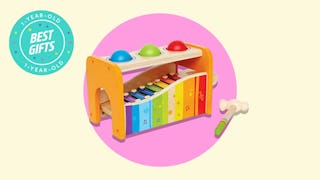 The best gifts for 1-year-old boys and girls instill curiosity, nurture learning, and yes — keep their attention! One of the wondrous things about watching kids grow in those first 12 months is seeing them learn to figure stuff out on their own. What no one tells you is how quickly they go from sitting in a floor seat to crawling all over the house to devouring that smash cake at their first birthday. As they transition from adorable little lumps to sentient creatures interested in the world around them, you'll begin searching for the best learning toys for 1-year-olds to help them along the way.
And it turns out, there are a plethora of educational toys for 1-year-old boys and girls on the market, but it can be overwhelming figuring out which ones are appropriate for a developing toddler. So if you're looking for the best 1-year-old birthday gifts, award-winning toys for 1-year-old, or an amazing Christmas present, consider taking an expert's advice.
For more gift-giving inspo, check out our toys for 2-year-olds, 3-year-olds, 4-year-olds, 5-year-olds, 6-year-olds, 7-year-olds, 8-year-olds, 9-year-olds, 10-year-olds, 11-year-olds, and 12-year-olds.
What is a good gift for a 1-year-old?
"One-year-olds are extremely active at this time in their lives," says Monica J. Sutton, a New York and New Jersey-based Early Childhood and Special Education expert. "They are moving, pushing, pulling, taking things apart, and putting them together. Your little one may have just started walking or is on the verge of walking, so they need some toys to encourage them to be mobile." Sutton recommends gifting toys that promote open-ended play — shape sorters, activity cubes, and other interactive toys are great for keeping a tot's attention (at least for a few minutes).
For a bigger option that provides lots of activities in one, "toys such as playsets encourage children to explore and play naturally," Sutton says. "They can pull, push, bang, turn, and discover many different ways to manipulate playset toys." On that note, you may want to consider a slide and climber set for especially active little ones.
Sutton also suggests interactive walkers to keep Baby engaged. FYI: The American Academy of Pediatrics does not recommend infant walkers (the kind that babies sit in, allowing them to move around before they're ready to walk). However, toddler walkers — toys that toddlers push around when they're becoming mobile — are great for development. According to Sutton, "Walkers encourage children to be mobile and move around their environment."
What can you get a 1-year-old that isn't a toy?
When it comes to raising a little bookworm, Sutton points out that sensory board books "allow children to see different images, bright colors, and feel different textures" which helps with their sensory development. "Children can control board books a little easier and turn the pages for a new surprise every time," she adds.
Also, don't be shy about asking Mom or Dad if there's a baby gear essential they need as their infant enters toddlerhood, and nursery decor is another non-toy gift that's both different and useful (as long as it goes with the theme, of course!).
With these recommendations in mind, we've curated the best developmental toys and practical presents so you'll have plenty of gift ideas for the 1-year-olds in your life. Needless to say, these smart picks go beyond the typical stuffed animals.
**Please note: All these picks are great for either boys or girls, but since some people like to search for gifts based on gender, we wanted to include some options!**
The Best Gifts For 1-Year-Olds
Best Gifts For 1-Year-Old Boys
Best Gifts For 1-Year-Old Girls
Best Christmas Gifts For 1-Year-Olds
Best Practical Gifts For 1-Year-Olds
Best Personalized Gifts For 1-Year-Olds