Disney Didn't Love Bette Midler's 'Hocus Pocus' Performance At First
"I think that scared people," revealed director Kenny Ortega.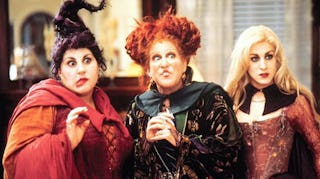 Disney
When it comes to timeless Halloween classics that you must watch every single spooky season, Hocus Pocus is at the top of the list for a whole lot of people. It has resurrected witches hungry for children, amazingly fun costumes and sets, and most importantly, the holy spooky trinity of Bette Midler, Sarah Jessica Parker, and Kathy Najimy.
But the first time Disney execs saw Bette Milder portray her beloved character of Winifred "Winnie" Sanderson, they were not spooked in the good way. In fact, according to director Kenny Ortega, they were scared of moving forward.
"When Disney first saw what Bette wanted to do..." Ortega told Entertainment Weekly, "They were like, 'Uh, we're not quite sure this is the direction we want you to go in,' and I think Bette was [like], 'Well, this is the direction I want to go in. If you want me to be the actress, you've got to bend here.'"
He qualified the story by explaining that Disney did not seem to get the vision that Midler — or the rest of the cast — had for a movie that was over-the-top campy and fun. They also weren't used to seeing Midler, who had recently starred in much more serious films like The Rose and Beaches, explore her clownier side.
"I think she was maybe a bit goofier and wacky, wild, the exaggerated character maybe frightened people, because they couldn't see the whole movie that was in front of it, and why Bette felt so comfortable," he continued, describing the "the absurdity of what she looked like" that every Hocus Pocus fan has burned into their brain. "I just think the makeup covered her up, that Bette got lost underneath it all, and I think that's what Bette wanted to do. She wanted to surrender herself into the wild character, and that she wasn't recognizable. I think that scared people."
Entertainment Weekly even verified with Disney that Ortega's telling of Midler's initial reception as Winnie Sanderson was accurate.
Luckily, after giving Milder the creative license she wanted and allowing the team to work toward their vision, Disney finally got the joke and joined the fun.
"Eventually, they relaxed, and the first dailies that came in," Ortega concluded. "Everybody was laughing and happy."
Thank god. Can you imagine a version of the movie where Bette Midler is literally even a fraction different than what we know and love?
While Hocus Pocus was not an instant, runaway hit, it did become a Halloween mainstay and then a cult classic that only seems to get more popular over time. The movie has spawned dinner menus, film location tours, Halloween costumes, advent calendar, and makeup collection. And the 2022 sequel quickly became the most-watched movie on Disney+.
Thanks, Bette, for sticking to your vision!
And there's more good news: Hocus Pocus 3 is now in the works, confirmed by Disney. It doesn't have a release date due to the striking situation, but hopefully, it's in our near futures. And hopefully Bette Milder keeps being herself (and Winnie Sanderson). Something tells me she will.