14 Best Overnight Diapers & Training Pants For A Better Night's Sleep For Everyone
We only recommend products we love and that we think you will, too. We may receive a portion of sales from products purchased from this article, which was written by our Commerce team.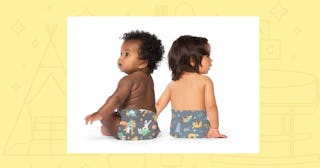 The best overnight diapers and training pants are life-changers for both Mom and Baby since nothing ruins a good night's sleep quite like an accident. It seems that every baby and toddler is capable of voiding their body weight while they sleep, and when accidents happen, everything's wet —onesie, bedding set, crib mattress — and both Baby and bed need to be changed. Luckily, a simple switch to an overnight diaper or nighttime training pants can be a total game-changer when it comes to snoozin' the whole night through.
RELATED: Need To Get Pee Out Of A Mattress? Urine Luck!
Do overnight diapers make a difference?
According to Jada Rashawn, Professional Nanny and Nanny Consultant for Sittercity, these are not just a gimmick. "Diapers are expensive and most parents use what they have [on hand], even during potty training. However, as a nanny expert of 12 years, I've come to learn that the different diapers on the market are created for a reason — and it's not just to make you spend more money."
This is especially when it comes to potty training. "Overnight training pants help lighten the potential workload that comes with overnight potty training," she explains. "These diapers are significantly more absorbent [than regular diapers] and are designed to keep the little ones and their beds dry."
Do overnight diapers help babies sleep?
If your little one consistently wakes up with an overfilled, or worse, leaking diaper, the short answer is yes. Rashawn swears by using these special diapers at bedtime. "Overnight diapers range in sizes from as early as newborn to youth sizes, and range anywhere from 8-10+ hours of protection, ensuring you get a full night's worth of dry sheets."
What age do babies need overnight diapers?
There is no "right age," but if your babe has a tendency to leak through their daytime diapers at night, or you just want to ensure extra leak protection, it's a good idea to make the switch before bed. As Rashawn mentioned, they come in sizes as small as newborn and go into toddler and even big kid sizes for kiddos who need more protection at night.
What is the best diaper for overnights?
It depends on your preference, needs, and the age of your child, but we've found some of the best out there! Rashawn shares a final pro tip: "Not all are hypoallergenic, so be sure to pay attention to that if your child has sensitive skin."
So whether you're looking for overnight diapers for babies or toddlers, or you need discreet disposable underwear for your older kiddo to wear during sleepovers, we've got you covered. Here are the best overnight diapers and training pants for heavy wetters and potty trainees.
And once you're done, be sure to check out our mom-approved cloth diaper and swim diaper picks, too!
Best Overnight Diapers for Babies & Toddlers
Best Overnight Diapers For Day AND Night
Best Overnight Training Pants For Girls & Boys
Did this list just change your life? Be sure to check out more mom-approved baby gear picks!