40 Hauntingly Beautiful Halloween Names Perfect For Your October Baby
Carry this mystical holiday with you all year long.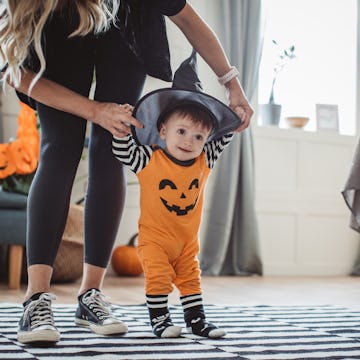 svetikd/Getty Images
For some people, Halloween isn't just a holiday — it's a state of mind. It's a time for dark romanticism, mystics, and magical lore. If that sounds like you, Halloween is probably your favorite season... and if you're expecting an October baby, where better to turn when deciding what to call your little one than a list of Halloween names? Even if your babe isn't born in October, the following names feel especially fitting for the child of anyone who looks forward to Halloween all year long.
For the record, Halloween names needn't be scary. It's a unique time of year filled with many otherworldly creatures, such as witches, ghosts, and black cats, that can evoke a sense of enchantment with your baby's name. Or maybe you have a favorite Halloween movie, like Hocus Pocus or Practical Magic, that would give their name a personal touch. Maybe Billy or Binx from the former or Sally and Gillian from the latter? Of course, if you aren't afraid of leaning into the horror side of Halloween, there are plenty of names to draw from there — names that sound sweet on the surface, like Rosemary or Samara, but which remind you of something much darker and moodier.
If you're looking for more inspiration, we've got you covered. Below, a list of Halloween names for your hauntingly beautiful (or should we say "boo-tiful"?) baby.