40+ Unique, Non-Toy Gift Ideas For Kids
by Rachel Jones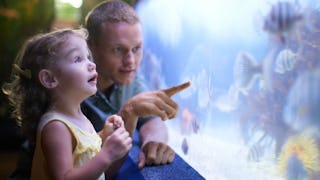 PeopleImages / Getty Images
Looking for some non-toy gifts for your kid this year? Makes sense. All of us who have children have too many toys scattered throughout the house. No matter how diligent we are at keeping them at bay, it seems to be a constant fight. It's especially hard when special days come and we want to give gifts to our children, or — and this can be a wildcard — when the grandparents want to shower them with gifts. (*Shudder.*)
Don't get us wrong; gifts are good things! But too much of anything isn't good. A great way to combat too many toys (aside from a really good toy storage system) is to shift all the gifts to non-toy items. So, here they are: From event tickets, to family board games, to dress-up clothes that emulate their favorite Disney characters, we've rounded up the best gift ideas for kids who don't need yet another stuffie.
RELATED: The Best LEGO Storage Ideas To Save Your Feet And Sanity
Events. Movie tickets, tickets to a play, concert, or sports event are really exciting! Having an event to look forward to makes the rest of life more enjoyable.
Coupons. An envelope of coupons that they can "spend" at any time: "One chore — no questions asked — for movie and popcorn night. You pick the movie!" "1:1 game of cards or basketball" (whatever the child's interest is). "Sit and read a book with me." "Stay up a half-hour past bedtime."
Restaurant Gift Card. Dinner, ice cream, coffee, cupcake — whatever suits their fancy! Give them the freedom of inviting whomever they wish: It may be Mom or Dad. It may be a grandparent, aunt, or even teacher that they would like to spend more time with.
Useful Gifts
Something for their room. Do they need a lamp (like this awesome moon lamp), a comforting night light, a loud alarm clock, sleep training clock (ideal for tots), or a shelf? Perhaps they'll appreciate an organizing system for their art or hobby supplies or a jewelry box to stash their treasured baubles. Many older kids enjoy displaying their LEGO creations on a shelf where younger siblings can't reach.
Savings Account or Stocks. Setting money aside each birthday or holiday may not be very exciting for these little people right now, but when they turn 18 and realize the amazing start they have in life, it will be a huge blessing. You can give a small token gift that they can open and enjoy on their special day, but put the majority of the gift into a savings program. Also, a cute piggy bank can encourage them to stash their allowance and give them their first valuable lessons in budgeting.
Donations. Children understand more than we think they do, generally they are caring and thoughtful of others. If you explain to them that some people don't have food to eat, or a nice place to sleep and the children have to have jobs, they can sympathize with that. There are many places that take charitable donations, help those in need, and send a card or a plush animal to someone you love. We personally like World Vision and Compassion International.
Recipes and ingredients. Kids love cooking with their parents. Baking something special or cooking dinner is an ideal time to spend together and learn life skills. Print out a recipe, purchase all the ingredients, and set a date for cooking together. Treat them to a baking set, complete with kid-friendly kitchen gear. Why not get them their own apron, too?
Snacks. If your child is a foodie, they will love this! Some homemade granola or cookies made just for them is a special treat!
Crafting Date. Crafting dates can mean the world to our creative little people. From scrapbooking, building kits, unicorn coloring pages, and more.
Clothes. When kids only have a certain amount of clothes, they often enjoy getting clothes. Make it a point to get something that fits their style and can be worn many ways. Amazon has a lot to choose from.
Dress-Up Clothes. Some of the most fun my kids have had have been with two old wigs and play silks that they used to create dresses or capes. There are also plenty of princess, superhero and villain costumes to choose from for those who like to dress as the people they see on screen.
Play or real beauty basics. Tweens will probably appreciate the real deal as they're at that experimental stage with their appearance. Little ones will add the play makeup (whether non-toxic or mess-free props) and kid-safe, water-based nail polish to their dress-up collection. Regardless of whether your kid qualifies for the play or the real version, this gift will stop them from rooting through your makeup bag and smudging up your favorite lipstick.
A Watch. The average child these days doesn't know how to read analog, or finds it takes too long to think about it, so they search for a digital watch. Getting them a cool watch makes them want to be able to tell time on it. Youngsters, tweens, and even teenagers can be excited about this.
Books. Books are always excellent options and typically aren't considered toys, but they stimulate the imagination just as much. Early readers also tend to become lifelong learners and get better grades than their peers. If your giftee is already a big reader, think about getting an organizing system for the books they already have (a kids bookcase or bookshelf, for example.)
Audiobooks. Audiobooks are great for all ages. They're good for downtime for kids.
Games. Games teach a lot, too! Monopoly (get the Elf edition for the holidays!) and PayDay have been popular and help cement math skills. Memory games are great for younger children. Settlers of Catan and Ticket to Ride are great for older kids. Board games are also a great way to spend some family time. The right one will get the family sitting down together, the competition flowing and the laughs never-ending.
Activities. Mini golf, bowling, skating rink. These are so much fun! And a big part of the fun is going together. Children love spending time with the adults in their lives. They want to see you enjoying your time as well as enjoying them.
RELATED: It's All About The Kids This Valentine's Day — 21 Gifts They'll L-O-V-E
Real Tools. Yes, they have play ones, but isn't it more fun if you can use the real thing? Go ahead and give them a box of nails, a hammer, and some scrap wood. Be sure to supervise, but it won't take long before they pick up this important skill.
For Toddlers
Classes. Music, dance, riding, drawing. Classes are a great way to encourage children in their interests and let them know that you pay attention to them and what they enjoy. Check out Skillshare, a platform with various neat online courses (for adults, too!)
Memberships. Zoo, science museum, children's museum, YMCA membership, etc. These are particularly great for family gifts! Many young families want to enjoy day outings, but affording them can be a challenge, so give them the gift of a yearly membership.
Music. Kids love music! Some great kid-geared artists are: Raffi, Tom Chaplin, and Sandra Boynton. You can't go wrong with a music-themed gift, no matter your LO's age.
Shoes and Boots. Snow boots or rain boots are especially helpful. For the little cowboy or cowgirl, having a special pair of cowboy boots is super exciting.