Your Ultimate Amazon Baby Registry Guide: The Top Must-Have Items To Get You Prepped For BB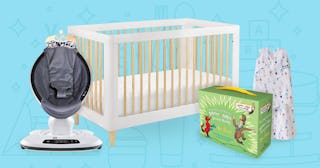 Speaking from experience: An Amazon baby shower registry is definitely the way to go when it comes to preparing for your baby shower (and, of course, your little one's arrival). But the secret to curating an amazing baby shower registry on Amazon? Knowing what to look for. So if you're wondering what to add, don't worry Mama — we're here to help! We've compiled a list of baby essentials by category, then pulled the best Amazon baby registry items and must-haves that you may want to consider.
RELATED: These Baby Rockers Will Rock Your World (And Make Your Little One Chill Out)
Yes, the thought of getting truckloads of baby presents will make any new mom smile … until you realize that you actually have to choose all the items before anyone can actually buy them for you. Exciting, sure, but overwhelming? YES! The first step to making this task infinitely easier is to set up an Amazon Baby Registry, which is a no-brainer for several reasons …
Amazon Baby Shower Registry Perks
Infinite Selection: It has just about everything you need, of course (you can even add items from other sites with the Amazon Universal Registry).
Easy Access: It's easy for friends and family to find your registry via your shareable link or a simple registrant search on Amazon.com. You can also set up "group gifting" for items so people can contribute to higher-priced items without buying the whole thing.
Simple Sending: Gift-givers can purchase and send presents with just a few clicks, which is ideal for a virtual baby shower situation.
Generous Return Policy: You have a full year to return any unwanted or unused gifts.
Effortless Organization: You can keep track of who gives what, which you'll appreciate when it's time to write your mountain of thank-you notes.
Free Welcome Box: Once your list qualifies, you'll be eligible for a box of baby swag worth up to $35.
Completion Discount: If there are items remaining on your registry after your baby shower, you'll get a 10% discount — 15% for Prime members — so you might as well register for everything you want and need!
Diaper Discount: If your registry reaches $500 in purchases, you'll be eligible for a 20% diaper discount on up to $300 in diaper purchases for a year (!)
Effortless Returns: Ever returned something to Amazon? Us, too. So you know it's a simple way to send back any gifts if you get doubles or happen to change your mind.
Okay, take a breath — that's a lot to take in. But we're not abandoning you yet. We've rounded up Amazon's top baby registry items so you can choose from the best of the best. Check out the mom-approved products in 10 major registry categories, plus links to lists for tons of other must-haves. If you're starting to feel overwhelmed, take a short break to read some kids riddles or heartwarming family quotes to re-center. Feel better now? Glad to hear it. And just remember: At least you don't have to buy everything yourself.
Best Amazon Baby Shower Registry Items
A Safe, Stylish Baby Crib
The most quintessential piece of baby gear to add to your Amazon baby shower registry. Be sure to add other nursery essentials like a crib mattress and rocking chair, then browse through some bassinets to keep your little one close in those first few months.
Easy-Wrap Baby Swaddles
The right swaddle is key to getting some Zzz's. In the name of wrapping your bundle of joy in safe, soft materials, be sure to add some organic cotton baby clothes to your registry list. And don't forget to pick a sound machine to help Baby drift off to dreamland!
Smart Baby Monitors for Ultimate Peace Of Mind
Peace of mind is priceless, and a good monitor can give you the freedom from doing the "5-minute check" all night long. Also consider putting a video monitor on your Amazon registry to keep an eye on Baby when you're not in the room.
A Soothing Baby Swing
Baby swings can soothe fussy babies for hours on end. When they're a little bit older, you'll want to have a play mat (ideal for tummy time), floor seat, activity center, and play yard on hand to keep BB occupied — and contained)! And in the name of BB staying happy, don't forget to register for some teething toys — you'll need them before you know it!
Bedtime Stories for Nighttime Snuggles with Baby
Some of your best memories will include cuddling up to read stories before bed. Sturdy board books and touch and feel books are perfect for curious little hands.
Feeding Gear
Of course, you want bottles that your LO latches to, but modern bottles have features that work for you, too. See our guide for the best baby bottles for breastfed and formula-fed babies, and be sure to browse bottle warmers and bottle sterilizers while you're at it!
Mealtime Must-Haves
In just a few short months, your tiny human will be ready for solids (with the pediatrician's approval, of course). Make sure to have some baby-friendly feeding spoons and plates and bowls ready, plus some silicone bibs to avoid an outfit change after every meal. You'll also want a high chair and booster seat so BB can join the family at the dinner table!
Baby Changing Necessities
Don't be shy about registering for baby wipes and diapers (overnight diapers, cloth diapers, and swim diapers — we've got 'em all!) 'cause you'll go through a lot! Consider getting a wipe warmer to keep the chill off of your baby's bum (you'll understand this after night #1), and a decent diaper pail for easy disposal. And don't forget a few extra changing pad covers!
Bath Time & Grooming Care for Baby
Be sure to check out our favorite bathtub and bath toys to get your mini mess-maker squeaky-clean. You'll want to find a bath set suitable for BB's sensitive skin, and when it comes to keeping nails trimmed, a set of baby-safe nail clippers will make the chore much less harrowing. And after all that grooming, treat your LO to a relaxing baby massage and they'll be ready for a night of peaceful slumber.
Travel Gear
Practically the most important items beyond the crib, compact strollers and car seats are the perfect additions for your Amazon registry (you can also find some pretty sweet stroller accessories designed to make your life easier). And remember, you'll need a baby carrier and diaper bag for all your adventures … or, let's face it, your errand runs.
This article was originally published on